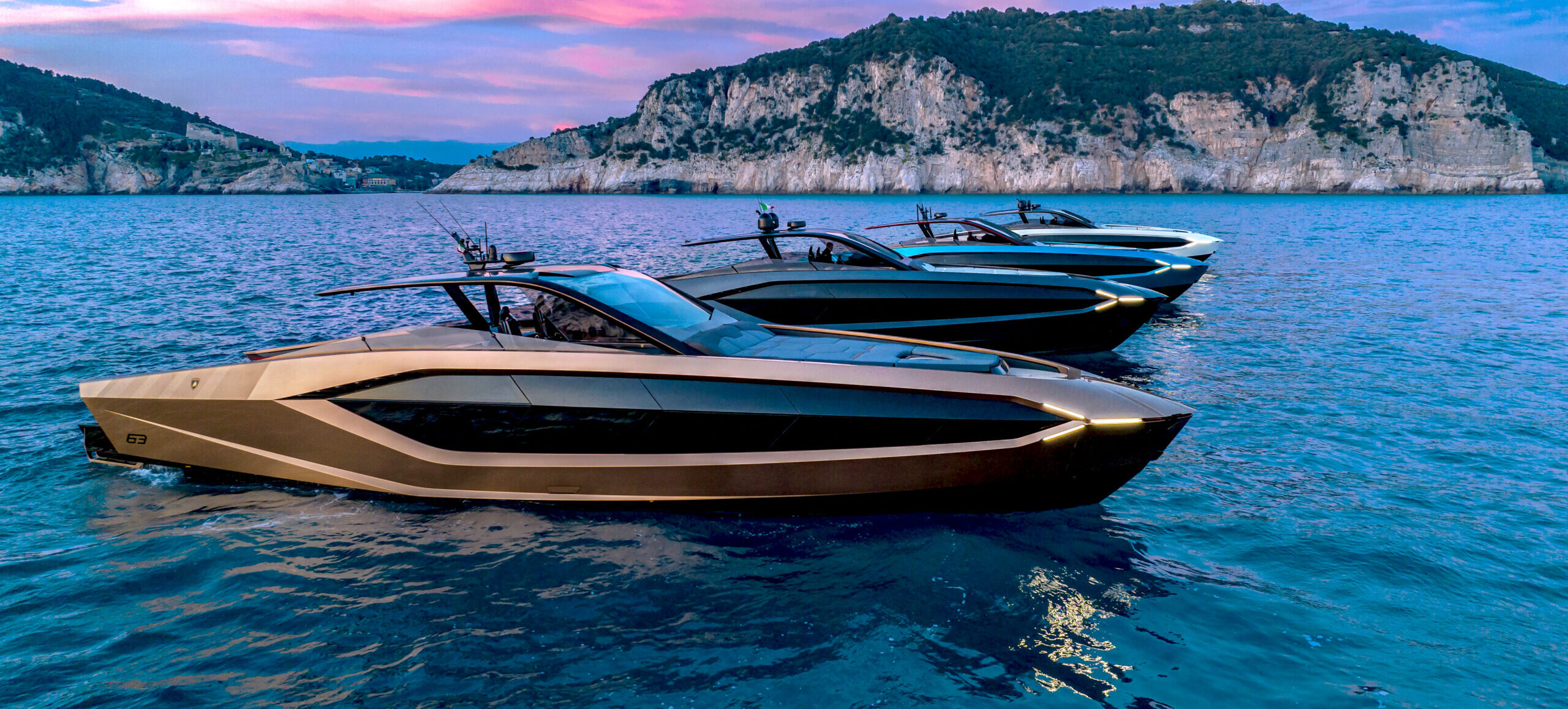 Tecnomar For Lamborghini 63 continues to conquer the world's most prestigious ports and marinas
The Italian Sea Group, a global luxury yachting operator, confirms the success of the iconic Tecnomar for Lamborghini 63 motoryacht in the world's most famous ports and marinas.
The yacht, the avant-garde luxury speed boat is a perfect combination of performance, technology and high-standard Italian design, with her unmistakable super sporty silhouette. In 2022 was included among the luxury industry's Best of the Best in the 'Motor Yacht Weekend Cruiser' category by Robb Report, after having received the award in the 'Motor Yacht under 25 metres' category at the 2022 International Yacht & Aviation Awards.
Ever since the first delivery in June 2021, the internationally successful Tecnomar for Lamborghini 63 project has fascinated the entire globe.
From the Mediterranean to the French Riviera:
• In Sardinia, in Porto Cervo. In Bianco Baloon colour the iconic motor yacht can be admired moored among Sardinia's most glamorous coves in front of The Italian Sea Group's flagship store.
• In Spain, it will touch the waters of magical Ibiza for the first time this season.
• In Capri, among the Faraglioni of the famous Partenopean Gulf.
• In the Principality of Monaco, two Tecnomar for Lamborghini 63 yachts moored in 'pitch view' in front of the world's most famous city track, enjoyed at the Formula 1 Grand Prix on 28 May 2023.
• In Cannes, it can be admired moored at Port Canto in its elegant Acheso Grey colour.
• In Saint-Tropez, the Tecnomar for Lamborghini 63 in the White Pearl colour will parade this summer in front of the most famous Tropezian beaches.
The perfect day boat for Miami – Bahamas
The Tecnomar for Lamborghini 63 is designed with a rather shallow draught, allowing moorings in shallow waters, thus conquering the US East Coast from Fort Lauderdale to the Bahamas, which can be reached in just three hours from Miami Beach.  She is the perfect day boat!
The success in the United Arab Emirates
A feature, that of her shallow draught, which has also favoured her success in the United Arab Emirates in Dubai and Abu Dhabi, thus confirming the growth in exports of leisure and sports boats from Italy to the UAE.
The landing in Sidney
In 2023 the Tecnomar for Lamborghini 63 landed on the APAC continent, in Sydney, Australia, confirming a further important milestone for the Group, in line with the commercial expansion plan in Asia Pacific, shared and supported by Automobili Lamborghini.